Looking Lambo's contest and looking for my old feeds I realized that I never made a intro here in WG. Well, for people who wants to know me better here it goes...
I'm Victor Braga e Bravo, born in 1989 in a city of Rio's countryside, Cambuci (about 15000 hab.). I was introduced in racing games in 1996 (or something near that year) with Super Nintendo, playing Top Gear series. I don't know why, but I started to like cars. Maybe it's because of the videogame, maybe it was because I used to play with car toys... Even I don't understand where and how I started to like them, I only know that I like! hahaha...
Top Gear, one of the first racing games played
About Need For Speed series, I started to play them when my mother brought to us (me and my brother) a Playstation, the first boxy version. I think it was in 1998... The console came with some games, like Vigilante 8, Crash Bandicoot (the first one), some RPGs for my brother and the classical, rare, first Need For Speed title, called "Road & Track Presents: The Need For Speed".
Some memories of the game
Soon I was getting more and more deeper into racing games. I acquired more racing game series, NFS II, Gran Turismo 1, but Gran Turismo 2 and NFS 3: Hot Pursuit (the first HP game) really got me into. With Gran Turismo 2 I started to recognize cars by their names and NFS HP by the epic tracks/scenario and pursuit chases.
NFS Hot Pursuit 1
Another that bring good memories is the NFS High Stakes, with more pursuits, challenges, cars and the first NFS visual tuning, like lowering kits, rims, some vinyls and bodykit details. This and the Hot Pursuit are the most memorible to me.
Some minor tuning in High Stakes, they add some visuals and handling improvements too
I'm not a huge fan of "one branded" racing games, but NFS Porsche Unleashed surprised me. With a great amount of Porsche cars and well made tracks/music that changed following the "eras", it surprised me. This game generate so much fun as other "multi branded" games and, by the way, it will add a lot of Porsche history knowledge to you.
Only with Porsches, this NFS still surprises me and give a lot o fun
Entering on next generation consoles, I got in 2003 a Playstation 2. In that year it was majestic, with a way better graphics compared to PS1. The first game played in it was Grand Theft Auto Vice City. Being able to destroy and cruise all around the virtual city, it easely became one of my favorite games. But here we aren't interested in these kind of games, only with racing ones! haha...
Well, some weeks later I was going to the videogame store in Itaocara (another city near Cambuci) that I always passed after my classes, near the bus stop that I usally waited a long time to come back to my city, to see more new games. Browsing around, the owner offered me the NFS Underground 1, that was brand new in that time. I read "Undergrond", but didn't know what that meaned. I was not impressed looking it's cover, but I though "Well, let's try this one...".
Never judge a book game by it's cover...
Arriving in home, the first thing that I (and every videogamer
) did was test the new game. Well, started to play "Get Low" by Lil' Jon and Eastside Boyz and I though "yeah, cool song" (if some of you guys don't like hip hop, remember that I was a kid with no taste of music that time...haha). Playing it I discovered more options, customization and music! Underground was my first step to like music and car customization/drawings! I still remember the day that I heard those rock songs, some shiny cars... And as every kid, I got impressed with colorfull cars, accessiories, music, tints, rims, etc! So, of course, my firsts rides were totally riced! So riced that Kireger22 would torture and kill me! That half red/black with a green dragon, adding golden 21' BBS, wideboded, blue neon, carbon fibered hood Skyline that I used to have... hahahahaha...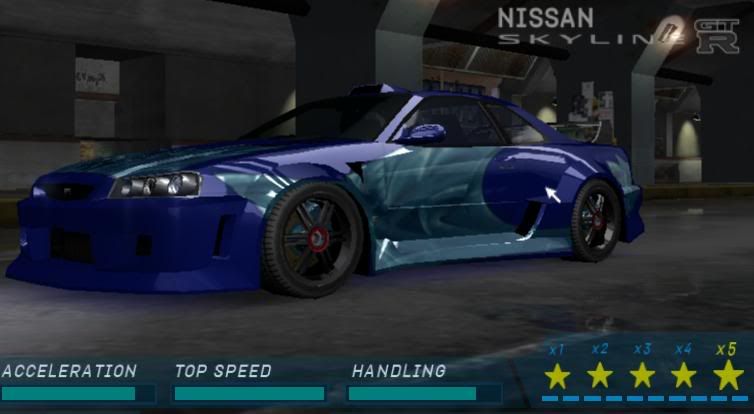 My firsts rides were a lot riced....
A year after Underground 2 came. Found it's soundtrack kinda lame... But the game added lots of customization items, some useless like car audio, hydraulics, hood and trunk neons, but I found the game ok, l liked it... Not so much as Underground 1, but I liked
My customization skills were evolving, now started to match better vinyls colors and design, neons as the same main or secondary color of the car, etc...
More time after, I got NFS Most Wanted. I got impressed because now races happens in daylight, police pursuits back and, specially, the amazing soundtrack! I remember using my Fiat Punto and crushing every cop in front of me, inspired by those songs! The map was very good too, because now we could race in cities and countryside too! It had fewer customization options, but who cares about it when they bring some exotics like Gallardo, Elise and others! Well, loved Most Wanted, good game. And then NFS Carbon came...
http://desmond.image...jpg&res=landing
Daylight racing and contrysides! Wow!
When Carbon arrived, like Underground 2, I found it's soundtrack more or less... Races turned back to night driving, we still got the cops, some storyline related to Most Wanted, new car classes, not surprising at all, but...! Yes, canyon races added more challenge aspect to the game, customization options got bigger and bigger with large amount of bodykits, rims, hoods and autosculpt... But what really got me into the game was the new vinyling options! From there I started to spend a lot of times during vinyl creations, but my creations weren't impressive yet...
With better vinyling options, Carbon teached me some customization basics
Pro Street came out and we got off illegal racing. Some fans of the NFS series didn't liked it because it tried to be a simulation game, without action, pursuits and outlaw racing as the other ones. Well, I found Pro Street cool. Not the best one, because it sucked in therms of simulation, but the game soundtrack was cool, cars where cool, customization and vinyls options were cool... So why the game can't be cool? Not the best NFS, but sure it can bring fun. Remember playing it during my epic vacation of 2007
Not the best NFS, not the best simulator engine... But I like it
In 2008 I got one of, some people claim to be, "the worst NFS series", the Undercover (PS2 version). Nothing so new was in the game... We got daylight illegal races again, but soundtrack was not so good (some songs were cool, like the Drum n' Bass ones), , lame story, pursuits were weakier than Most Wanted, weird chasing bosses stages. The only thing that saved this game was the vinyling options... And now I started to make some good artworks! I didn't like Undercover too much, but it was very important for my customization evolution. So Undercover, you are not so good, but thanks for teaching me customizations!
The game was very average, but it was very important to me
"Hey Victor, what about NFS Hot Pursuit II?" Yeah, it was the last "second generation console" NFS that I played. So, it was not so impressive for me, but the game is good, gives a lot of fun, specially playing as cops or evading them. Scenario becomes epic when helicopter comes and start to drop barrels and spike strips! haha
The third generation console games... I won't write a lot about them because I still experiencing them. Played Shift series, that are a way better than Pro Street in therms of simulation. Engine sounds are incredible, 1st person view with headphones makes you fell in a real car, the game is very good.
The third Hot Pursuit has epic enviroment, lots of highways, breathtaking pursuits, barries, cops and cars. Total arcade, like good old times. Liked it.
And World... The most disgusting, laggy, buggy, speedboosted, cheated and glitchy NFS that we love! haha
How I hate and love you, World! haha...
NFS World is a great game, I like it. Cheaters aren't the developers fault, so analizyng the game, it has some sync fails and stuff, but World is a great place to know new friends, race, show your and see other cars and stuff. Because of it that I joined World Garage, because of it that I stay with you, WG guys and girls!
World teachs me every day about customization, how to race clean, that you never will be the best in everything, but you can be the best in a specific area that you like... And on other areas that you don't rock so much, there will always be friends that will make you improve. That makes World special. Not it grathics, not it cars, not it's simulation/arcade engine, but the social interaction, friends
Nowadays, I moved to Nova Friburgo, a bigger city and next to Rio, compared with Cambuci. I study mechanical engineering in my university. I like to play some games and draw some cars in my free time. You guys can find me at WG, I will be always peeking around here, reading comments and topics, rating other's rides.
"But hey Vic, how did you get into World Garage?"
Well, even I don't know where I found it very well... Haha
It was a long time ago, I think it was when I read something in World's Official forum. I was reading something that lead me to WG. I made my account, made few posts, then "I quitted". After something aprox. 6 months later I re-opened my acount, made some posts and stuff.. It was ok... I created a blog about my drawings, so I started to share some of them with WG people Users were rating the drawings well, praising it, so that made me stick with World Garage. Now I made some friends, established my reputation here, so I'm always avaiable to help people that is new around here, because I see that those people should be encouraged to participate, post your ideas and, of course, be a part of the WG family!
Very long intro, but I hope some people has patience to read it and share your ideas too! haha
Cheers,
Victor Braga e Bravo
Ps.: Some error says that I can't post Top Gear video, so I will post it here: